Contents
Background
Emirates Global Aluminium is the UAE's largest industrial company outside of oil and gas. It aims to be the "industrial employer in choice" in the countries in which it operates.
Some 60,000 people work in the UAE aluminium sector, its supply chain, or to meet the needs of its employees – one in 100 jobs in the country – and EGA employs more than 10 percent (6,500 people).
EGA has been developing its people for decades – with a particular focus on UAE nationals and on women – to fulfil "career potential across all parts of its business" and to achieve the goals of the UAE's Operation 300bn industrial growth strategy and Centennial 2071 in creating a diversified knowledge economy.
Woman at EGA
EGA is pioneering the role of women in heavy industry in the UAE.
It employs 400 women worldwide, in roles ranging from shift technicians to executive leadership.
Women hold around 20 percent of UAE supervisory roles today. EGA aims to increase that to 25 percent by 2025, and to have 15 percent of all positions at the company held by women by 2026.
There are two women on EGA's executive committee, and the company secretary is a woman. Nine positions on subsidiary boards within the company are held by women.
EGA's Chief Executive Officer, Abdulnasser Bin Kalban, says the global metals and mining industry has historically been a "very" male-dominated sector, "capable of creating a non-inclusive work environment for female employees".
"This must change for the good of industrial companies and society," he said.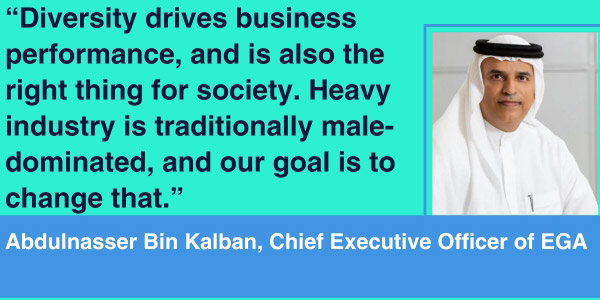 UAE Nationals at EGA
EGA employs around 1,200 Emiratis. When considering the high number of blue-collar positions in heavy industry, EGA has one of the highest Emiratisation rates of any major company. Last year more than 220 young UAE Nationals joined EGA, including 100 women.
Mr Bin Kalban adds: "Diversity of people gives us diversity of thought, and having different mindsets ensures that we think about issues and strategies from different angles to obtain the best outcome for EGA.
"Diversity drives business performance."
Table: EGA's workforce, by gender and age
 
Gender
Age
 
Men
Women
Up to 29
30-49
50+
Executive
82%
18%
0%
82%
18%
Senior management
86%
14%
0%
60%
40%
Middle management
81%
19%
14%
62%
24%
Non-managerial staff
98%
2%
11%
77%
12%
Source: EGA 2021 Sustainability Report
[Contact us today to discuss your DEI needs]
EGA and gender diversity
Across the business: EGA is taking action "at every level" to meet its gender diversity target, even spending millions retrofitting basic facilities for women in operational areas first built decades ago. In 2020, EGA launched the Women's Network, a forum to advocate for the empowerment and development of women within the organisation. EGA's Code of Ethics expressly prohibits any form of discrimination, including based on gender. It hires on a "consistent, fair and merit-based approach in accordance with equal opportunities regardless of gender" and remunerates "regardless of gender". EGA supports new, expectant and nursing mothers (while recognising the potential risks from heavy industry) and provides maternity leave either above or in accordance with statutory requirements. It has two women on its Executive Committee.
Targets: By 2025, EGA aims to increase the number of women in supervisory roles from just under 20 percent today to 25 percent. By 2026, EGA expects to employ women as 15 percent of its entire workforce.
Women on Board: EGA has partnered with Aurora50 to put four women through its Pathway20 programme (see below). Nine positions on EGA's subsidiary boards have been taken by women since 2021.
In the community: EGA advocates for gender diversity in society. In 2022, EGA became a signatory to the Women's Empowerment Principals – set up by UN Women and the UN Global Compact Office. This acts as a public declaration of support for key actions to drive gender diversity, from establishing high-level corporate leadership for gender equality to promoting the education, training and professional development of women and publicly reporting progress. In 2022, EGA opened national training programmes for roles in industrial operations to women for the first time, with 16 young UAE national women joining during the year.
EGA and Emiratisation
Across the business: EGA has one of the highest Emiratisation rates of any major company – when accounting for the high number of blue-collar roles in heavy industry – and has more than four decades of experience in Emiratisation. It employs almost 1,200 Emiratis. In 2022, EGA hired more than 220 UAE nationals, including 100 women. More than 5,000 UAE nationals have graduated from EGA's national training programmes since they were established in 1982. EGA established its Youth Council in 2018 to enable the company's young UAE national employees to develop into "innovative leaders and pacesetters for change" in the nation. Over 700 of EGA's Emirati employees are under the age of 35.
Targets: EGA's goal is to create 500 additional opportunities for UAE nationals by 2026, taking the company to 45 per cent in-focus Emiratisation.
In the community: In 2023, EGA agreed to share its best practice in Emiratisation with the private sector through the Emirati Talent Competitiveness Council (NAFIS).
Inclusivity at EGA
EGA wants "the best people" to join the company, says Mr Bin Kalban, and to progress "based on their ability and commitment to succeed".
EGA employs more than 50 nationalities.
It provides "effective opportunities" for high-quality recruits to reach their full potential, while taking a long-term approach to retention, with competitive remuneration and welfare.
New values for EGA were chosen by its employees in 2021 to "collectively" reflect the "cultural recipe we require for success": safety and sustainability; integrity and fairness; ownership and teamwork; and innovation and continuous improvement. EGA also re-defined its purpose as 'Together, innovating aluminium to make modern life possible' and set bold, public aspirations to fulfil it. This includes EGA's gender diversity targets.
EGA also created the 'Najah Network' in 2021 – representatives who are "building a bridge" between frontline employees and EGA's leadership, acting as role models of EGA's values and advising EGA on how its cultural transformation is "progressing in all corners of the organisation".
EGA sees DEI as a "core component" of its environmental, social and governance (ESG) strategy. Its 2030 ESG plan has a "diverse, inclusive and safe environment" as one of its three pillars.
EGA's DEI work is contributing to its efforts in achieving the United Nations' Sustainable Development Goals (SDGs). For example, SDG 8 (decent work and economic growth) is met by offering competitive salaries and benefits and a "positive work environment to retain talented employees for the long-term". Looking at SDG 3 (good health and wellbeing), EGA complemented its Employee Assistance Programme with a mental wellbeing campaign that began during the Covid-19 pandemic and continues to grow in ambition and scope.
EGA and STEM
The UAE has one of the highest proportions of women studying science, technology, engineering and mathematics (STEM) of any country, and EGA is committed to attracting and retaining the most able people from this talent pool.
EGA employs some 1,500 people in STEM-related roles.
By 2030, EGA aims to provide programmes to support STEM education and inspire further studies and ultimately career choices to more than 50,000 school children.
In 2022, Engineer the Future – a programme to introduce schoolchildren in grades nine to 12 to science fundamentals and their application in industry, in partnership with Emirates Schools Establishment (ESE) – returned after the Covid-19 pandemic. It previously ran from 2017 to 2019 and reached more than 16,000 UAE students.
EGA runs a STEM outreach programme with UAE universities and schools. EGA's Ambassador Programme is led by young Emirati EGA engineers and professionals, and has reached more than 13,000 UAE students since its launch in 2019.
Two of EGA's own executive committee members originally joined the business as fresh STEM graduates.
EGA provided scholarships to 75 students in the UAE in 2021, helping with UN SDG 4 (quality education).
[Download EGA's DEI initiatives as a PDF]
Iman Al Qasim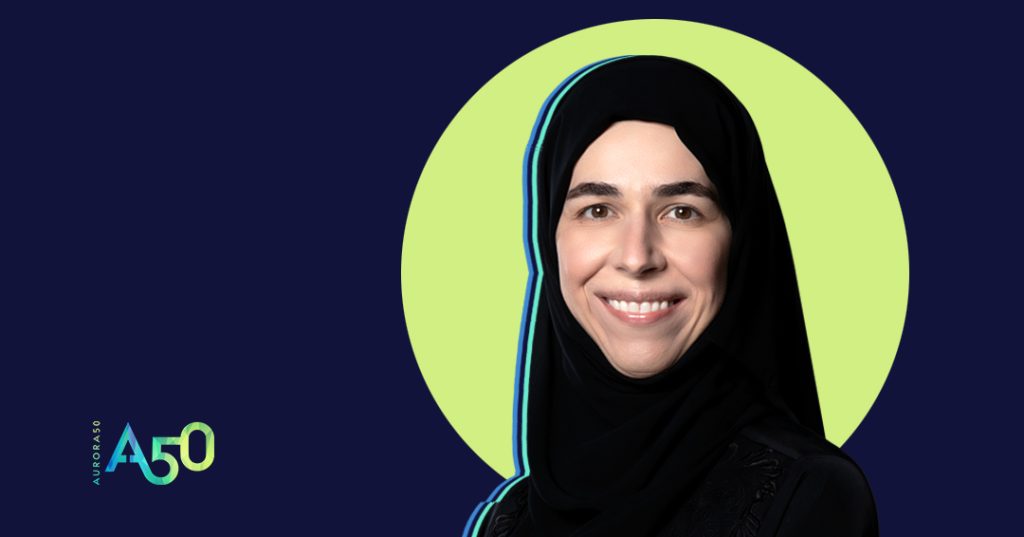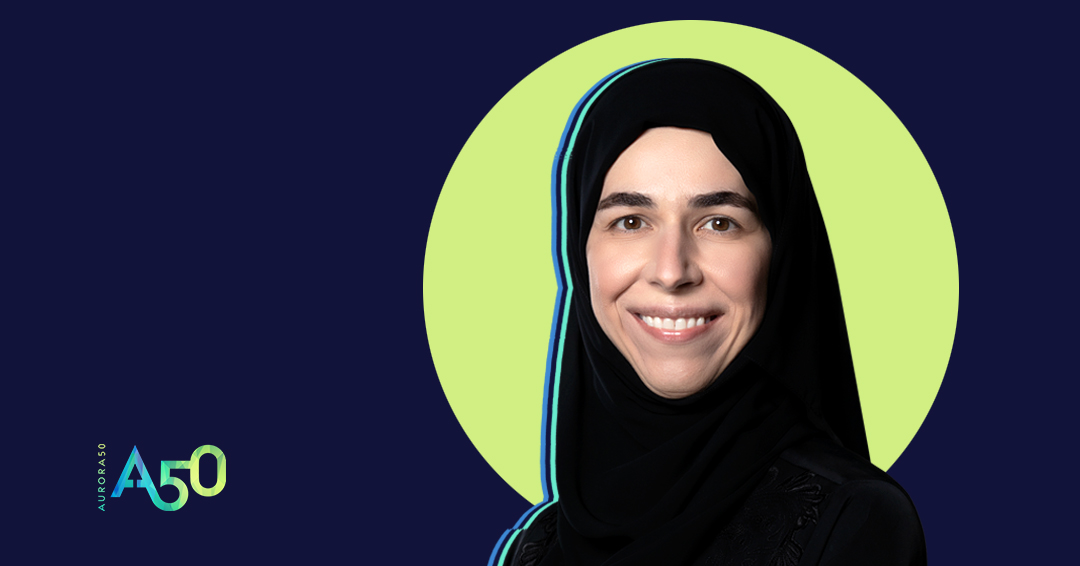 EGA role: Executive Vice President of Human Capital, EGA
Board positions:
Non-executive and independent board director of DFM-listed Aramex (2023). Chair of the human resources committee
Non-executive and independent board director of ADX-listed Abu Dhabi National Energy Company (TAQA) (2023). Member of both nomination and remuneration and audit and risk committees
United Printing and Publishing (UPP) (2022), member of audit and risk committee, chair of HR committee
Board director of Abu Dhabi National Exhibition Centre (ADNEC) (2021), chair of remuneration committee
Board member of EGA Reinsurance Ltd (2021)
Board member of EGA America Inc (2021)
Joined Pathway20: 2021
Says: "I've discovered a lot about myself during Pathway20. I think what's most astounding is that there's a big difference from the role you play on a board versus the operational role that you play as an executive in a company. Being part of a group of women that is driving the change, and trailblazers for the UAE and for women on boards, is amazing."
Julie Cunningham
EGA role: Global Head of Tax, Risk and Resilience, EGA
Board positions:
Independent board director, International Fiscal Association (2022)
Board director, Emirates Global Aluminium (Shanghai) Aluminium Co Ltd (2023)
Board director, Emirates Global Aluminium Korea Ltd (2022)
Board director, EGA Reinsurance Ltd (2022)
Board director, EGA America Inc (2021)
Board director, Emirates Global Aluminium (Singapore) Pte Ltd (2021)
Joined Pathway20: 2021
Says: "Empowerment, vision and leadership is, in essence, the core of Aurora50. It [Pathway20] is a transformational programme, which has elevated my ability to deploy value across all board appointments. Aurora50 is reinforcing the UAE's vision and status as a global hub for best-in-class in representing gender equality."
Hind Al Ali
EGA role: Senior Manager, Alumina Procurement, EGA
Board positions:
Independent board director at DFM-listed National General Insurance Company (NGI) (2022), member of audit and risk committee
Board director at Emirates Global Aluminium (Singapore) Pte Ltd (2022)
Joined Pathway20: 2022 – she was awarded her first independent board role two months later.
Says: "Everyone has a network they're familiar with; however it comes down to effort in reaching out and unlocking opportunities. This time around I had a clear roadmap, reached out and (eventually) saw the benefits."
Laila Saif
EGA role: Director, Human Capital Strategy & Operations, EGA
Joined Pathway20: 2023
Says: "Having diversity on boards and in leadership positions brings a new perspective to the table. It is so exciting to be part of this transformational change. Together, everything is possible."