6 June 2023, Ras Al Khaimah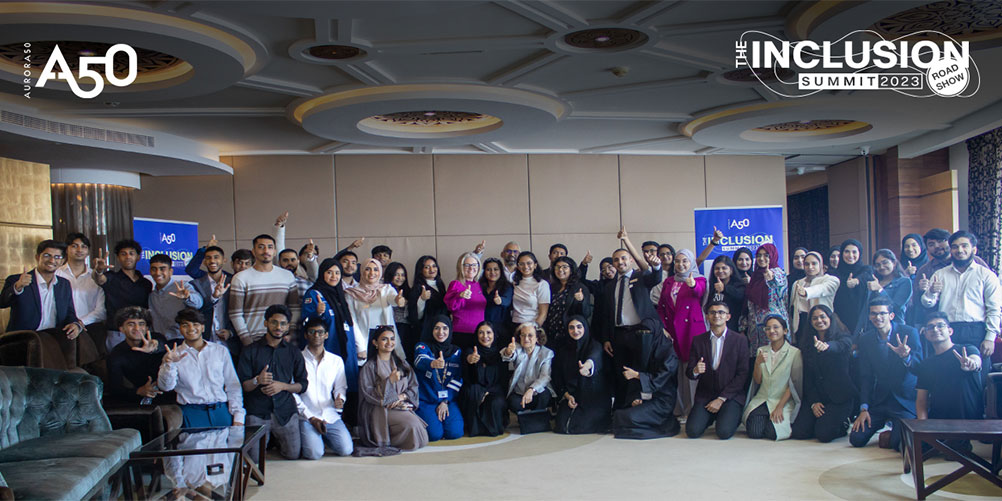 The Inclusion Summit 2023 hit the road this summer.
This special roadshow took us to Ras Al Khaimah on 7 June.
The event embraced the wider UAE community – including youth and people of determination. The Inclusion Summit Roadshow:
engaged with under-served communities across the UAE
focused on youth, Emiratisation and digital inclusivity
sparked more localised discussions around inclusion
provided a platform for regional government and organisations to showcase their DEI initiatives
enabled brands to connect with youthful talent
The Inclusion Summit 2023 - Challenge the status quo
This is the MENA region's largest cross-industry DEI event: an assembly of hundreds of chairs, board members and C-suite executives.
The Inclusion Summit 2023 – a place to:
build connections between regional and international change-makers

challenge outdated views of the region
gain insights into national and company DEI initiatives
share best practices in DEI and inspire change.
Join 900+ DEI trailblazers.
The Inclusion Summit 2023 sponsors
Roadshow official government partner
The Inclusion Summit RAK Roadshow agenda
Time

Session

Registration and networking

Opening remarks and welcome address

Keynote presentation – Putting inclusion at the forefront in The Northern Emirates

Panel discussion - Breaking barriers to youth inclusionUnderstanding the economic and social impact of successful youth initiatives in the workplace | Effective strategies for engaging youth in DEI initiatives | Upskilling and future skills

Fixing the bAIs – artificial intelligence activation

Youth circles activation - From vision to reality: Achieving truly inclusive workplaces in the UAE

Through engaging discussions and collaborative exercises, participants will delve into practical solutions to create diverse and equitable work environments that empower and embrace the talents of all individuals
The RAK Roadshow in numbers
Network with 1,000+ attendees - the change-makers of Corporate UAE
Gain access to the boards of some of the UAE's biggest organisations
Get noticed by companies looking for board-ready women to join them
Participate in roundtables and panel discussions
Be part of the solution to diversity, equity and inclusion (DE&I)
Surround yourself with people creating high-performing boards
Chairpersons and Vice-Chairs
Director Generals & Presidents
Board Members and Committee Members
SVPs, EVPs and Vice Presidents
C-Suite: CEOs, CFOs, CTOs, CMOs
Global Heads of Department
Early bird discount ends in:
Request for a complimentary pass or speaking opportunity
Be a part of the ESG future through gender-diverse and profitable boards
Affirm your support for gender diversity on boards and learn how you can support aspiring talent in the C-suite
Highlight and get the attention of decision-makers that are looking for women to join their boards
Network with 1,000+ attendees - the change-makers of Corporate UAE
Be part of the solution and surround yourself with the information, inspiration, and people who are shaping the future of the board
Access board-ready female talent, as well as some of the best boards and understand their plans for supporting gender balance
Imad Eddine Oubiri
Senior Advisor, Director of Community & Industry Engagement, American University of Ras Al Khaimah
Ramzi Aissa
Executive Vice President, Business Performance & Strategic Analytics, RAKBANK
Fatima AlMarzouqi
Senior Specialist – Financial Crime & Sanctions, Chair, Youth Council, Central Bank UAE 
Alya AlShamsi
Legal Counsel, Youth Council Representative, du
Maryam Al Gaz
Alain and Northern Emirates Power Maintenance Department Manager, TRANSCO
Mohamed Al Zeyoudi
Senior Associate, PwC Middle East 
HE Abdullah Bin Touq Al Marri
Minister of Economy, Chairman of the Securities & Commodities Authority (SCA), Chairman of the General Civil Aviation Authority (GCAA)
HE Sarah bint Yousif Al Amiri
Minister of Industry & Advanced Technology (MoIAT), Chairperson of the UAE Space Agency
HE Dr. Aisha bint Butti Bin Bishr
Vice Chairperson, Emaar Development
HE Huda AlHashimi
Deputy Minister of Cabinet Affairs for Strategic Affairs
Ms. Sangeeta Desai
Non-Executive Director, OSN
HE Rashed Abdulkarim Al Blooshi
Acting Undersecretary, Abu Dhabi Department of Economic Development (ADDED)
Ms. Belinda Scott
VP & Head of Corporate Sustainability, First Abu Dhabi Bank
Susan Hooper​
Non-Executive Director, Uber Technologies ​