Public Policy | Innovation | Government Affairs | Economic Reform ​
Ruba brings over 20 years of experience working for UAE Federal & local government, the private sector and the United Nations in the UAE and the US, focusing on public policy, economic reforms, finance, government innovation and building knowledge-based ecosystems.   
Ruba Al Hassan is currently on a mission to set up the innovation and future foresight sector for the government of Abu Dhabi and previously served as Acting Director General of Government Affairs at the Abu Dhabi Department of Finance responsible for overseeing the Abu Dhabi government budget of over 60 entities, the non-oil revenue office and the tax office of the government.  
Prior to her role at the Department of Finance, she held various leadership positions at the Abu Dhabi Executive Office (ADEO) including the Executive Director of Ghadan 21, a $13.6 Billion economic stimulus program that was also responsible for developing and overseeing the COVID economic stimulus program for the emirate.   
She previously served as Acting Undersecretary at the UAE Ministry of Culture and Knowledge Development where she was responsible for developing and implementing a nation-wide strategy to promote the UAE as a creative and cultural hub and managed the day to day operations of the Ministry.  
While in the US, she served as the Senior Advisor to the UAE Ambassador in Washington D.C., where she spearheaded UAE-US partnerships in technology, education, and entrepreneurship with Harvard, MIT and Google among others.  
In addition, Ruba served as a policy Advisor at the Abu Dhabi Crown Prince Court and at the General Secretariat of the Executive Council, and the Abu Dhabi Government Restructuring Committee.  She also worked with the United Nations Development Programme on key human development portfolios, after transitioning from a private sector career as a corporate banker with HSBC Bank.  
Ruba serves on the board of directors of HUB71, a world-class tech ecosystem that incubates tech start ups. She has also served on the board of advisors for Flat6Labs, the MENA region's leading seed and early stage venture capital firm and the most recognized startup program in the region. Ruba has co-founded an NGO to shelter human trafficking victims and a social enterprise to promote youth empowerment and entrepreneurship.   
Ruba has a bachelor's degree in architectural engineering, and two post-graduate degrees, a Master's Degree in Development Studies from the School of Oriental and African Studies (SOAS) in London and a Master's Degree in Public Administration from Harvard University Kennedy School of Government. 
Fatima Al Hammadi CCO of Kezad Group, board member of Khalifa University Fatima Mohammed Al
Maitha Al Murar Group chief HR officer, the Abu Dhabi Ports Group Ms Maitha Al
Ruba Yousef Al Hassan​ Public Policy | Innovation | Government Affairs | Economic Reform ​ Ruba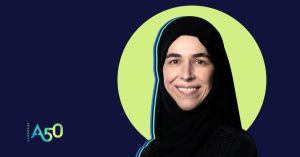 Iman Al Qasim, who graduated from Aurora50's Pathway20 accelerator in 2021, has become a non-executive, independent director of TAQA, the Abu Dhabi National Energy Company.
The COO of AD Ports Group's Kezad on a busy two years in which she took on her new job and a trustee board seat.
Hind Al Ali has been made an independent board director at National General Insurance.