Head Of Digital Cluster - Abu Dhabi Ports | CEO – Maqta Gateway
Dr Noura Al Dhaheri is the Head of Abu Dhabi Ports Digital Cluster and CEO of Maqta Gateway.   a   subsidiary   of   Abu   Dhabi   Ports.
Maqta   Gateway   offers   the   first   purpose-built  and  most  innovative  Port  Community  System  (PCS)  in  the  UAE.  Designed  in  line  with  international  standards,  Maqta  Gateway  acts  as  a  single  window  provider  facilitating  information  flow  between  all  port  stakeholders  and  users.
Dr Al Dhaheri has assumed leadership of Maqta Gateway from its inception in 2014. Since then, she has activated the development of the PCS system and is now spearheading its market expansion.
Dr Al Dhaheri has helped usher in a seamless transition into a totally digitalised way of conducting  trade,  creating  a  bridge  between  data  and  the  port's  business  operations,  while aligning with the Abu Dhabi 2030 economic vision of optimising port processes.
Her innovative vision, coupled with remarkable technical and managerial skills, have been instrumental  to  achieving  successful  implementation  of  the  most  advanced  and  high  standard port community system. Maqta Gateway will be providing effi­cient and modern port community solutions across the UAE which will support a sustainable and growing trade business in the Emirates.
In addition to obtaining a BSc degree in Software Engineering and an MSc in Engineering Systems and Management, Dr Noura Al Dhaheri completed her PhD at Masdar Institute and Massachusetts Institute of Technology.
Her studies are part of the Interdisciplinary Doctoral  Degree  Program,  focusing  on  formulating  mathematical  optimisation  models  with  special  applications  to  seaport  operations,  including  developing  a  mathematical  model  to  optimise  efficiency,  safety  and  sustainability  at  the  container  terminals  at  Khalifa Port by speeding up the loading and unloading of containers using quay cranes, reducing the time spent at port by container vessels.
She was recognised with numerous prestigious awards for her outstanding contributions in the field of information technology, including the 'Best Pipe Inspection Robot' Award, which  was  presented  to  her  by  Schlumberger. 
She  has  also  been  published  in  the  international  and  highly  respected  Journal  of  Manufacturing  Systems,  Computers  &  Industrial   Engineering,   Simulation   Modelling   Practice   and   Theory   and   Annals   of   Operations Research. Another accolade has been a letter of recognition from Bill Gates who praised her innovative approach in designing a mobile learning device for which she and her team won the first prize in a regional competition – Imagine Cup 2007.
She  has  received  several  regional  and  international  awards  in  the  maritime  sector. In  2018, she received the award of the Entrepreneur of the Year in International Bulk Journal (IBJ),  and  the  Seatrade  Maritime  Awards  for  Integration  of  Women  in  Maritime  Sector  Award. In 2019, she received the Seatrade Award for the Young Personality of the Year, and the Emirates Women Award for Leadership. Her project has also awarded in 2019 by the International Association of Ports and Harbors (IAPH) in World Port Sustainability Awards for the Resilient Infrastructure.
Dr Al Dhaheri is also  committed to social, environmental, technological and educational programmes. She serves as Vice President of the Emirates Digital Women Association and takes  a  leading  role  in  supporting  women  in  the  digital  and  technical  sectors,  both  at  national and regional levels.
Dr Al Dhaheri also served as Chairwoman of Abu Dhabi Ports' first Women  Committee  from  2016  through  2018,  where  she  played  an  integral  role  in  supporting  the  career  development  and  education  advancement  of  women  in  maritime  industry.
Fatima Al Hammadi CCO of Kezad Group, board member of Khalifa University Fatima Mohammed Al
Maitha Al Murar Group chief HR officer, the Abu Dhabi Ports Group Ms Maitha Al
Ruba Yousef Al Hassan​ Public Policy | Innovation | Government Affairs | Economic Reform ​ Ruba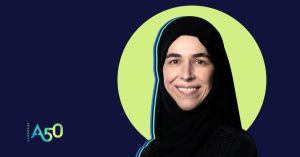 Iman Al Qasim, who graduated from Aurora50's Pathway20 accelerator in 2021, has become a non-executive, independent director of TAQA, the Abu Dhabi National Energy Company.
The COO of AD Ports Group's Kezad on a busy two years in which she took on her new job and a trustee board seat.
Hind Al Ali has been made an independent board director at National General Insurance.