Financial policy | Strategy | Infrastructure | Health | Education | Utilities
Mariam Balfaqeh currently holds the position of Government Financial Affairs' Department Manager at Abu Dhabi Executive Office.
Her area of expertise is focused on financial policy and strategy and spans across sectors such as Infrastructure, Health, Education and Utilities.
In addition, Mariam also effectively collaborates in cross-functional teams with diverse technical and cultural backgrounds within her role, she participated as the lead in the Economic Environment pillar in the working group supporting the "Towards the next 50" Committee.
Prior to that, Mariam worked a total of four years in Mubadala Development Company as an associate, where she managed and supported in managing the process of key project financing in Abu Dhabi.
Mariam is currently serving as a board member in Takaful Emarat, a Shariah-compliant, DFM-listed insurance provider headquartered in Dubai, United Arab Emirates, Chair of the Investment Committee and a member of the Audit Committee.
Mariam holds a Master's Degree in Public Administration from Harvard Kennedy School in 2018, and a bachelor degree in Finance from Zayed University.
Fatima Al Hammadi CCO of Kezad Group, board member of Khalifa University Fatima Mohammed Al
Maitha Al Murar Group chief HR officer, the Abu Dhabi Ports Group Ms Maitha Al
Ruba Yousef Al Hassan​ Public Policy | Innovation | Government Affairs | Economic Reform ​ Ruba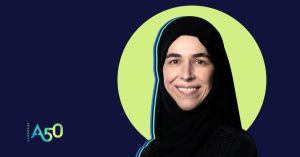 Iman Al Qasim, who graduated from Aurora50's Pathway20 accelerator in 2021, has become a non-executive, independent director of TAQA, the Abu Dhabi National Energy Company.
The COO of AD Ports Group's Kezad on a busy two years in which she took on her new job and a trustee board seat.
Hind Al Ali has been made an independent board director at National General Insurance.