Group chief HR officer, the Abu Dhabi Ports Group
Ms Maitha Al Murar is currently the group chief HR officer at  the Abu Dhabi Ports Group, the master developer of ports and industrial zones in Abu Dhabi, UAE, an organisation that is becoming a globally recognized player and enabler in logistics and trade.
With over 18 years of experience in Human Resources, Ms. Al Murar is known for her ambitious and innovative approach in identifying strategic priorities, implementing HR best practices, and driving positive change within organizations. During her career, her strong leadership is evident in successfully spearheading several strategic HR initiatives – including redesigning of HR functions, optimizing the HR business-partnering model, developing models for talent & succession and performance management, and leading a major organizational restructuring due to expansion and Acquisition.  
Her efforts have received several accolades. In 2018, her team received an Excellence Award for Best Corporate Support function. Under her leadership, Abu Dhabi Ports obtained the prestigious Investor in People (IIP) Platinum Accreditation in 2019 ( the First organization in the Middle East)  and is amongst the 1% of platinum IIP accredited organizations worldwide. This accomplishment demonstrates her continual commitment to creating a positive work environment, and focus on people development and well-being. 
Ms Al Murar is the Vice Chairperson of Emiratization Committee in Abu Dhabi Ports and in 2015 she was the first Emirati female professional to address the R Tech World Congress in Paris.  her presentation on "Capitalisation of local talents"  detailed Abu Dhabi Ports' Emiratization success story  with the world at a prominent international conference.
She is also a member  of the Women's Steering Committee, and Excellence Higher Committee.  Before joining Abu Dhabi Ports in 2008, Ms. Al Murar supported the HR function in several key entities in Abu Dhabi  including the Commercial Building Department and Abu Dhabi National Exhibitions Company (ADNEC).  
Ms. Al Murar is certified in Human Resources Practice from the Chartered Institute of Personnel and Development (CIPD) and also got the Certification of the "Director Development Program" from Hawkamah & Mudara Institute of Directors. She is well-versed and adept in strategic HR, innovation strategy, coaching, operational excellence, and performance evaluation.  Ms. Al Murar has a Bachelor's Degree in Social Studies and  she is currently pursuing her Master's Degree in Business Psychology. her goals is to aims to implement best practice with the use of social scientific research and findings to make people and organizations more effective and innovative.  
Fatima Al Hammadi CCO of Kezad Group, board member of Khalifa University Fatima Mohammed Al
Maitha Al Murar Group chief HR officer, the Abu Dhabi Ports Group Ms Maitha Al
Ruba Yousef Al Hassan​ Public Policy | Innovation | Government Affairs | Economic Reform ​ Ruba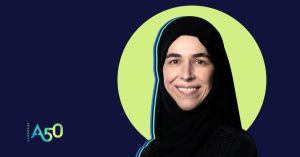 Iman Al Qasim, who graduated from Aurora50's Pathway20 accelerator in 2021, has become a non-executive, independent director of TAQA, the Abu Dhabi National Energy Company.
The COO of AD Ports Group's Kezad on a busy two years in which she took on her new job and a trustee board seat.
Hind Al Ali has been made an independent board director at National General Insurance.