CCO of Kezad Group, board member of Khalifa University
Fatima Mohammed Al Hammadi is chief commercial officer of Kezad Group (Khalifa Economic Zones Abu Dhabi Group), part of AD Ports Group.
She is also a member of the board of trustees at Khalifa University.
She was formerly vice-president of commercial and business development at ZonesCorp, one of the two companies that merged to form Kezad Group.  
In this role, Ms Al Hammadi was responsible for driving the strategic execution of new projects, development of market opportunities and generating investment in one of the largest operators of purpose-built industrial zones in the UAE, increasing its global competitiveness and enabling industrial growth. 
In 2020, she drove ZonesCorp to achieve significant revenue growth and increased sales through the development of sector focused sales strategies to offset the global effects of the COVID-19 pandemic.  
Ms Al Hammadi has more than 20 years of government and semi-government expertise in developing long-lasting business strategies that drive commercial development.
Her extensive knowledge and experience spans industrial development, telecommunications, customer service and sales.  
Prior to ZonesCorp's incorporation under the AD Ports Group umbrella in 2020, Ms Al Hammadi was the Executive Director of the Higher Corporation for Specialised Economic Zones.  
Her role focused on driving sales and cultivating strong relationships with potential investors. Since 2009 Al Hammadi guided the development of new commercial and industrial ventures that include ICAD Gate, the Al Ain Business Park and the Life Sciences and Pharmaceuticals Hub. 
Prior to joining ZonesCorp, Ms Al Hammadi was the Director of Customer Services and Sales Support at global telecommunications company Etisalat. She was tasked with the development of customer service strategies, procedures and programmes for the international telecoms firm. During her tenure she managed initiatives to improve overall customer service coordinated with Etisalat's engineering, IT, sales, marketing and customer service divisions. 
Ms Al Hammadi holds a Bachelor's in Information Management from the Higher Colleges of Technology, Abu Dhabi, UAE. Al Hammadi also holds an Executive Education in Leadership Certificate from Harvard University, USA. 
Fatima Al Hammadi CCO of Kezad Group, board member of Khalifa University Fatima Mohammed Al
Maitha Al Murar Group chief HR officer, the Abu Dhabi Ports Group Ms Maitha Al
Ruba Yousef Al Hassan​ Public Policy | Innovation | Government Affairs | Economic Reform ​ Ruba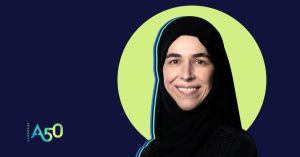 Iman Al Qasim, who graduated from Aurora50's Pathway20 accelerator in 2021, has become a non-executive, independent director of TAQA, the Abu Dhabi National Energy Company.
The COO of AD Ports Group's Kezad on a busy two years in which she took on her new job and a trustee board seat.
Hind Al Ali has been made an independent board director at National General Insurance.