The GCC's first accelerator to increase boardroom gender balance
Pathway20 is the region's only board career accelerator dedicated solely to building the pipeline of highly competent female board directors and connecting them to boards of listed, large-scale private companies and high-growth scale-ups supported by the UAE government.
Ready to drive diversity at the top?
Pathway20 offers a distinctive framework to support women in their early board careers.
Through a targeted 12-month programme, women discover what it takes to build a successful board career and how to really add value in the boardroom. 
Pathway20 offers unmatched networking opportunities, connecting participants from the GCC's largest and most influential organisations, who collectively showcase their wealth of experience across a broad range of industries.
This is a fast and effective opportunity for a board-ready woman to accelerate her impact, as she learns from the first-hand experiences of brilliant directors and board advisors. 
Through workshops, discussions and one-to-ones, participants learn to add value in the boardroom, connect with seasoned directors and get exposure to all the skills needed to build a board career. 
Boards are actively involved in resolving perceived talent gaps, improving gender parity and creating an ecosystem where corporations have access to exceptional female talent.
Are you ready for Pathway20?
Are you a woman looking to accelerate your board career?
Are you part of a forward-thinking organisation?
Are you a woman looking to accelerate your board career?
Pathway20 offers exclusive, customised accelerators with:
Unmatched networking opportunities

Skill-building & knowledge-sharing sessions

Confidence-building discussions

Guidance and advice from the most prestigious board members in the GCC.
The best preparation for sustaining a board career.
Are you part of a forward-thinking organisation?
Premium Plus package

Premium package

Workshops

Eight CPD accredited workshops on board-critical topics within 12 months

Networking-building

Establish connections with 20+ boards of listed, high-impact and rapidly expanding companies:

Join a community of aspiring women, fostering growth in the initial phases of your board journey
Elevate your career through exclusive networking events alongside Pathway20 accomplished alumna

24×7 online learning platform

Access our 24×7 Online Learning Management System (LMS) to amplify your year of transformation, including on-demand content:

Profile-building
Writing your compelling board bio
Mastering strategic networking
Applying for your first board position
Unveiling strategies to identify and approach target companies and boards

Board bio deck

Aurora50 is gaining renown for our network of accomploshed women board directors. You'll join our exclusive Aurora50 board bio pack, shared with executive search firms and nomination committees in search of talented women

Assessment

Assessment of participant by third party

Personal development workshop

Attain bespoke personal and executive skills coaching, delivered by experienced coaches, meticulously tailored to your unique assessment

Mentorship

Mentorship from a seasoned board director

Board career planning

Two one-on-one sessions with Aurora50 leadership team to strategically map your board career action plan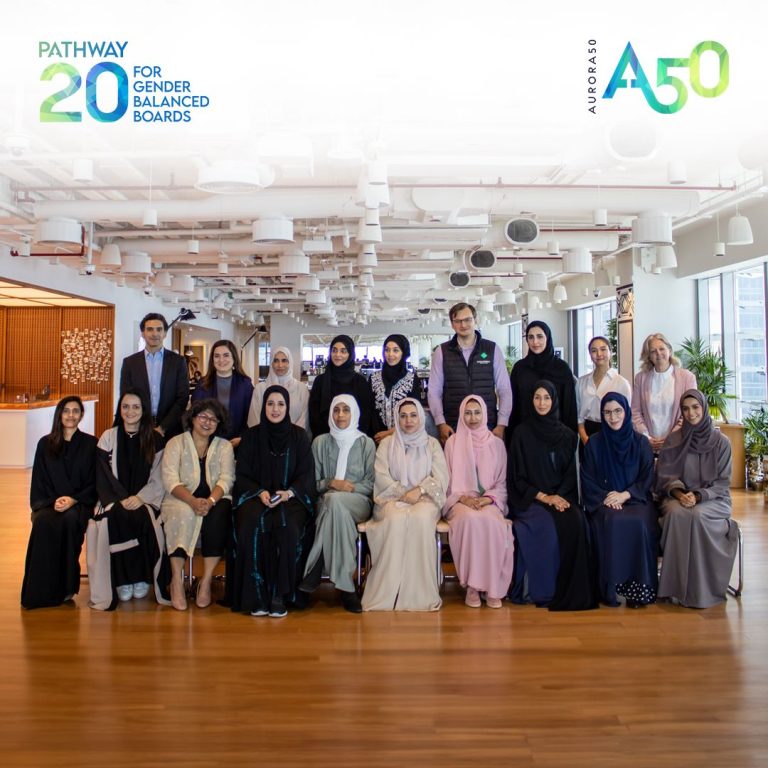 AI prompts and how to assess business risk from artificial intelligence for NEDs
Read More »
Emirates Global Aluminium (EGA) is focusing on the pillars of gender and Emiratisation in its DEI efforts.
Read More »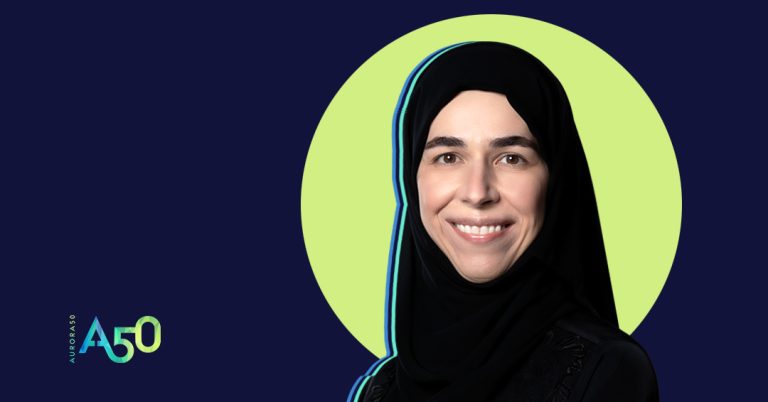 Iman Al Qasim, who graduated from Aurora50's Pathway20 accelerator in 2021, has become a non-executive, independent director of TAQA, the Abu Dhabi National Energy Company.
Read More »
There is a large disconnect between female board talent in the UAE and boards that are looking to appoint women board directors, often caused by women's lack of network access to board members.
By simultaneously building the pipeline of competent women and connecting them to current board directors and chairs, Aurora50 believes we will reduce the network gap between boards and talent and that we can reach a ratio of women holding 20 percent of UAE-listed board seats within a decade.
As such, we commit to connecting each Pathway20 participant to at least 20 boards. This theory of change is the driving force that informs all aspects of Pathway20.
"ADNOC has an unwavering commitment in supporting females to grow, develop and excel in their careers, which is why we are proud to be an anchor partner of the Pathway20 initiative. We believe that gender diversity in leadership positions contributes to innovative thinking that drives competitive advantage. As we seek to contribute towards our nation's prosperity, this programme will build a pipeline of female talent in leadership positions."
Fatema Al Nuaimi, Executive Vice President, ADNOC Downstream Business Management, and chair of the ADNOC Gender Balance Committee
"At Mubadala, we recognise that women's equality and empowerment is not only vital for society but is also valuable for our business and the community. As a partner of the Pathway20 initiative, we are keen to continue working together to ensure talented women assume leadership roles across the region."
Homaid Al Shimmari, deputy group CEO, chief corporate and human capital officer, Mubadala Investment Company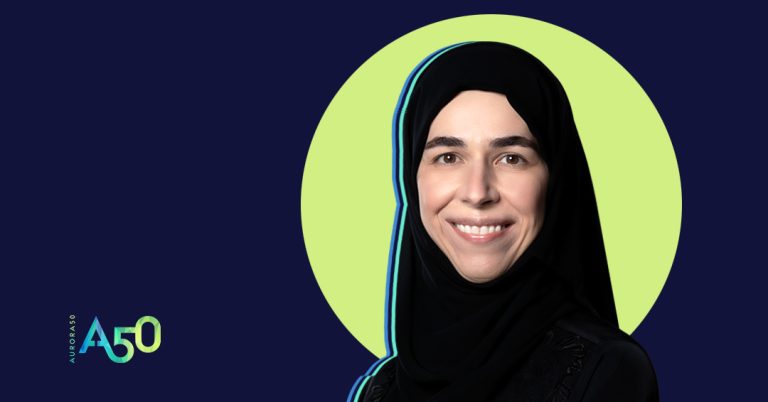 Iman Al Qasim, who graduated from Aurora50's Pathway20 accelerator in 2021, has become a non-executive, independent director of TAQA, the Abu Dhabi National Energy Company.
Read More »
The COO of AD Ports Group's Kezad on a busy two years in which she took on her new job and a trustee board seat.
Read More »
Hind Al Ali has been made an independent board director at National General Insurance.
Read More »
Who should participate in Pathway20?
Pathway20 curriculum
Who should participate in Pathway20?
Programme participants are typically leaders from UAE's most influential and well-respected organisations, who generally share the following traits:
Hold senior roles such as CEO, p

resident, vice-president, director and department head.

Offer a significant scale of position in terms of budget and people responsibility.

Demonstrate strategic dimensions of work.

Have proven ability to change opinions through rational argument.

Are able to influence key high-level decisions.

Possess considerable leadership experience.
Pathway20 curriculum
Your team members will join a robust peer network
Chaired by Sheikha Shamma bint Sultan bin Khalifa al Nahyan, our steering committee comprises our co-founders and senior representatives from leading organisations with considerable boardroom experience.
The committee members provide high-level oversight and practical support to the initiative, ensuring that the development programme is relevant to future board directors, in line with global and regional trends. 
Commitment to making a positive impact on the region's business ecosystem
Growing from within, delivering quality service and protecting shareholder interests
Successfully transitioning to non-executive board roles and holding multiple assignments
Compliance, navigating complexities and building value together with the public sector
Questions? Connect with us
There are two ways to connect with the Pathway20 team:
2. Subscribe to our newsletter
to access practical tips for building a board career, stay up to date on enrolment opportunities, hear from board peers and much more.
Our partners are forward–thinking organisations making tangible shifts towards a more gender-balanced ecosystem. Leading by example, these organisations are building internal talent pipelines, thus demonstrating their commitment to board-level gender diversity. Additionally, they provide us with pragmatic guidance in shaping our annual programme and, ultimately, the boards of tomorrow.
Our knowledge partners contribute to the annual Pathway20 development programme and raise awareness for board-level gender balance.
You can help create a world we can all be proud of